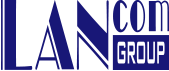 A leading System Integrator and ICT services and solutions provider that uses its technology expertise, promising service, and vertical-by-demand software development capability to accelerate the business ambitions of its clients. LANcom Group 's operational subsidiaries include LANcom Technologies and LANtel.
With its professional in ICT service, LANcom has three decades experiences in operation and field experience. Not only own the expertise but also consolidate and strengthen LANcom Group competiveness to provide comprehensive services and total solutions for the clients. 
With the business philosophy of "Innovation, Transformation, and Competitiveness" which making clients to keep pace with changes in the market and grow up together.