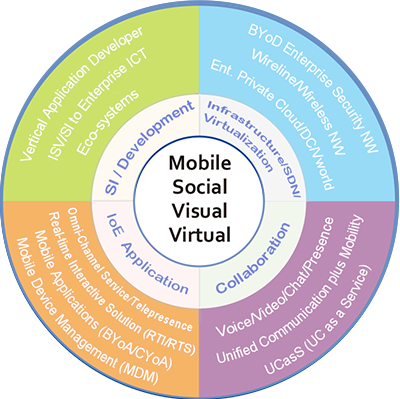 LANcom Networks Group provide end to end Enterprise grade comprehensive ICT solutions and services. On the track of Mobile 、Social、 Visual、 Virtual four(4) key trends, LANcom fit various sectors' best interest, and fulfill the suitable solution for every single customer's needs. The scope of LANcom's total solution cover infrastructure, virtualized Networks, vertical-wide service/application platform and various wired/wireless endpoint devices, including host systems, VPN/security and management mechanism, database effectiveness tool, performance, data protection, Collaboration platform, vertical-wide platform/application and tailor-made vertical services. The expectation is to value up customer's agile networks and enhance their IT investment, in order to meet customer's strategic goal and company growth.
SI /Development
The chef of a technical project is the SI (systems integrator) player, it relys on SI's expertise and precise execution to end a project. LANcom SI team has fluent experience in their profession and field fulfillment experiences, including plan, build, operate and manage a project. We are capable to provide tailor-made development, which will enable c customer to meet more precisely their strategic goal with design-in process and solution. There are may happy customers in many sectors, i.e. financial services, insurance, manufacturing, healthcare, retail, automotive, campus, call center.
Key technologies:
MAMS(Monitor & Adm Mgmt System) 、
CRM System CCADS 、
Smart Healthcare Collaboration Communication System
IoE Application
IoE (Internet of Everything) is an extension of IoT (Internet of Things, Things), i.e. networked connection of People, Process, Data, Things. Yesterday, they functioned independently. Today, the IoE brings them all together by combing machine-to-machine (M2M), person-to-machine (P2M), and person-to person (P2P) connections.
IoE related communications technology can be divided by End-device), network/infrastructure , back-end platform.
1. End-device: Covers mobile devices, computer terminals, household electrical appliances, equipment and induction equipment.
2. Network/Infrastructure: All related physical/virtual networks to provide communication transmission, usually conveyed through the Internet, including wired / wireless / mobile, or a variety of physical or virtual network architecture to provide messaging deliver from the terminal to the background, and then transit the command through the pipeline to another terminal.
3. Back-end Platform: All the services/applications are handled by Back-end platform and deliver to terminals in between. The platform will deal with all possible services, including store, analyze, monitor, alert , visual presence…etc. The investment to Back-end platform, from enterprise's prospect, they may in-house built (on premise model) or taking leasing model to host by external Service provider or other hosting party. The platform may be located at enterprise own machine room or on a specific hosting place, resulting in the development of so-called cloud services.
Key technologies:
Endpoint - Avaya, Endpoint- Cisco, Headset- Jabra, Headset-Plantronics, Headset- Sennheiser, Endpoint – Ploycom
Back-end platform:Video Conferencing - Avaya Scopia , Telepresence – Cisco, Conferencing -Polycom, WFO/Recording – Nice Real-time Solution, Trading Floor Platform – Etrali , Healthcare platform - Stanley , Connexall , Oracle/Acme packet ECB , BYOD & Mobility - Cisco/Meraki , MDM – VMware Airwatch
Infrastructure /SDN/Virtualization
Investing Enterprise Network is to consider the TCO (total cost of ownership) as well as to maximize the entire Network operational efficiency. Furthermore, the latest network design trend is turned to balance both physical and virtual network, also widely utilize software-defined network (SDN) technology to assure fast fulfillment for enterprise seamless connection via the high efficiency communications technology, i.e. LAN/WAN, wireless network, security and IP communications and related solution to assist planning to meet your network application architecture and security for future scalability and migration.
Key technologies:
Cloud - Cisco 、 Enterprise Network - Cisco 、 Avaya 、 Aruba Security – Cisco VPN 、RSA Storage - NI 、EMC 、 NetApp SDN: Cisco One 、 Citrix SDN 、VMWare SDN World Virtualization - Cisco UCS/DC/V Wireless NW - Aruba 、 Wireless NW - Cisco /Meraki 、
Collaboration
Unified Communication is from traditional TDM Voice Network move forward to Omni-channel communications, i.e. internet, video service experiences, i.e. online instant messaging (web chat), screen sharing (Co-browsing), videoconferencing (point to point & point to multipoint).
Inspire people and enterprise to collaborate innovatively, further drive business transformation, accelerate innovation, and to achieve operation efficiency within pleasant ROI (return on investment ) in short time. In addition, people can enjoy real-time interaction with others in anyplace, anytime, anywhere.
In recent years, more collaboration services/applications come to the cloud, it's so-called UC as a Service (UCaaS) new service models. This is to help all Enterprises to complete time to market strategy, they can easily fast deploy the critical applications, and also meet enterprise-class security and administration management to enhance productivity and business expectations.
In mobility era, BYOD (Bring your own device) and CYOD (Choose your own device) become the common phenomenon to major subscribers, it allow people to communicate or work via all kinds of mobile devices with flexibility in Cloud generation.
  Key technologies:
Aura Communication Solution - Avaya
Collaboration - Cisco
SMB - Avaya IPO , SMB - Cisco BE6K
Online Meeting/Seminar - Webex Hosting/On-Premise model
UCaaS - LANcom Cloud Reseller Model